Bluefin Tuna Fishing Charters out of Gloucester, MA
Gloucester Massachusetts is centrally located to some of the most productive Bluefin Tuna Fishing grounds that New England has to offer.
Gloucester is the perfect choice for your Bluefin tuna fishing charter due to the close proximity to all of the North, East and South fishing grounds in the New England area which include Jeffries Ledge, Tillies Bank, Stellwagen Bank, and Cape Cod Bay just to name a few. Gloucester is in the middle of all the productive waters of New England which equates to the shortest ride out of any port, which means more time fishing and more choices of fishing grounds to choose from.
A typical bluefin fishing charter begins with a 1-5 am departure depending on what trip you book and arrives back after the allotted time. All bluefin tuna fishing charters are 12 hours minimum (full day), or 15 hours minimum (marathon day).
Travel times from the port of Gloucester average 30-120 minutes depending on which type of fish we are targeting. No other port in New England can offer you such short ride times to so many fishing grounds. If we need to stay longer or travel further we will!
We have a large and fast new charter boat and can get anywhere quickly if we need too. Our boat is by far the nicest charter boat in the area.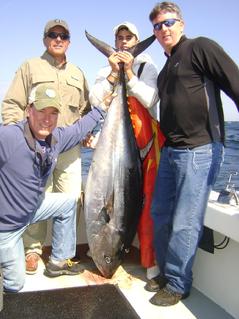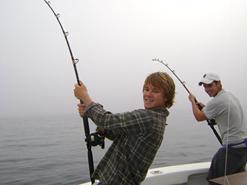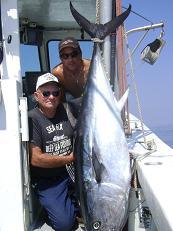 What To Expect On A Bluefin Tuna Charter
A typical catch can vary greatly with each charter. Some days we have up to 10 bites and other days we have no bites, however we are one of the most productive tuna boats in New England!
Our past track record speaks for itself. Our best year was over 100 giant tuna hooked and 88 landed in 2016. To date we have 9 giants over 1,000 pounds and many other years just as close to our all time best.
As for school tuna each year, there are too many to count! And yes, there are days we don't catch tuna, but we do give it 100% effort every day. We will stay longer or travel further if we have too. You will call it quits before we do. The majority of the school tuna we catch are between 180 and 220 pounds and are getting bigger each year with their return.
A successful day is one nice 200 pounder in the boat or maybe a 1,000 pounder if you're lucky and up to it! It does often happen, so be ready. If we do land a giant tuna(s) it will automatically become property of the boat (per NMFS) and we will give you 10% of the sale of the tuna(s) (after fuel) to a maximum of $1200 for any length trip.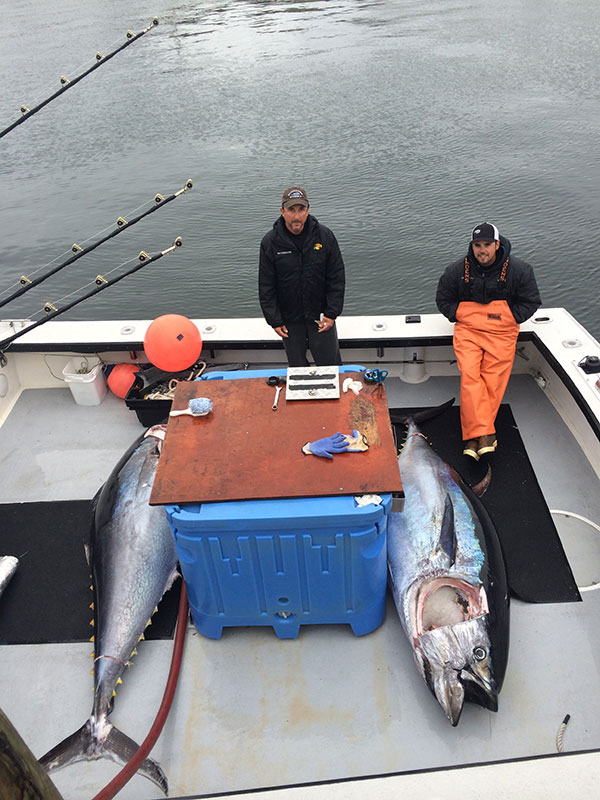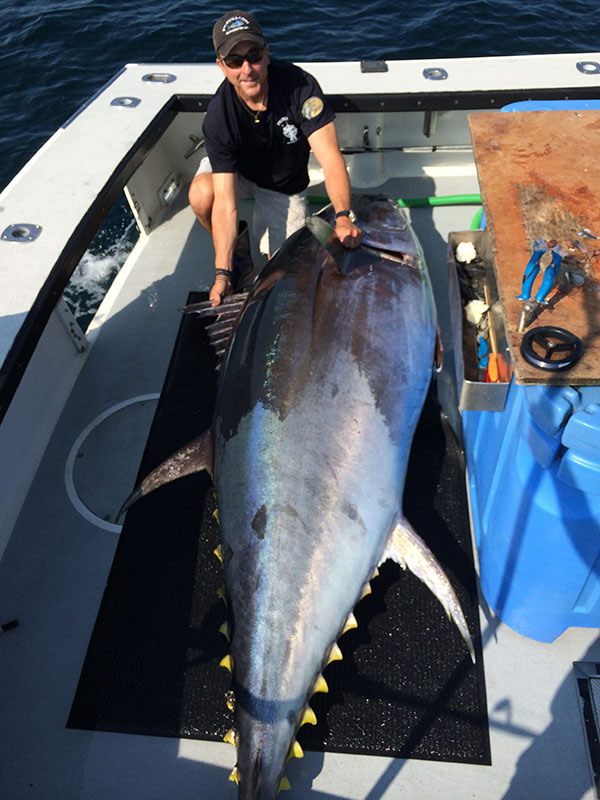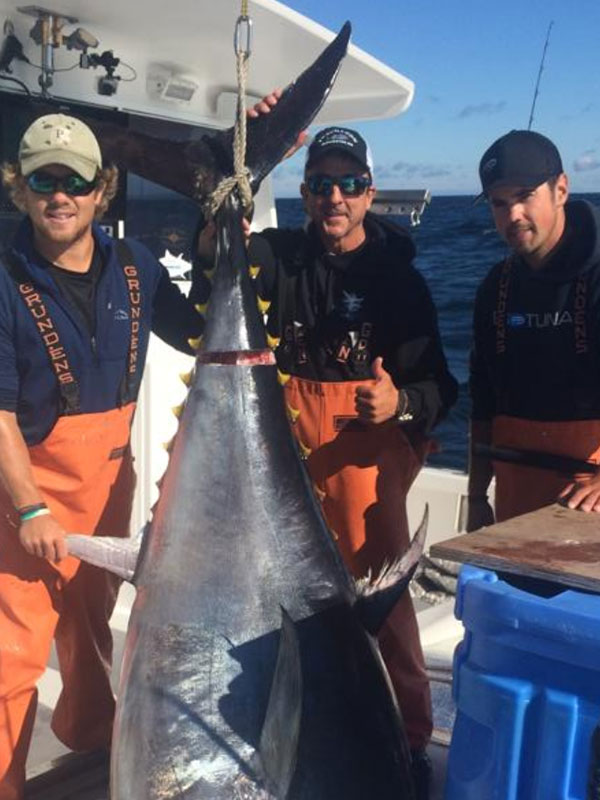 Bluefin Tuna Fishing Techniques
Technique varies; some days we are bait fishing, kite fishing, or jigging on the anchor and other days we are trolling. Fishing the kite when the wind permits is the most exciting bite you will ever see!!! Watching a tuna, giant or school, launch out of the water chasing a bait hanging from a kite just a few feet from where you are standing is something to see. That alone, as some of our tuna charters have said, even though they lost the fish, was worth the trip! You have to come and see for yourself.
Trolling for bluefin tuna can vary with using baits or trolling artificial lures. We prefer using baits as they are most productive, but it takes lots of time and experience (31 years) to do it properly. Typically we troll 4 to 5 rods. If you are watching the baits or lures, it also is an amazing bite to see but you are not as close as you are on the kite bite.
Bluefin tuna fishing begins in June and generally ends at the end of sometime in November, even though we have caught giant tuna in December.
The best bluefin tuna months are difficult to say as we do catch the entire season, but if I had to choose, I would choose July through October. We had many days with double and triple headers and up to 6 fish being released in this time period. On many of our bluefin tuna fishing charters if you're not too tired from cranking the handle for hours, we will stop on the way home and load up on haddock! We have had amazing tuna and haddock combo charters the last couple of years.
To book a bluefin tuna charter out of Gloucester MA, email at tuna.comcharters@yahoo.com
For rates visit our Charter Pricing