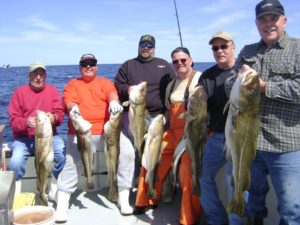 This morning we did not have the weather and this afternoon we did. The morning started out okay with a good pick of market fish for about an hour and then it was all over. The wind was blowing and the fish stopped biting.
Lots of running around after and looking for some fish, and there were none to be found. Later in the day, the wind let go, we went to where we had bigger fish a few days ago and when we arrived they were stacked up 20 feet thick and all large cod. Stop and drop fishing was the only way to catch…get on them, let the jigs fly and you where either on or you where not and it was time to move once again.
It was a great afternoon sticking it out late and finishing up with tired fishermen who did a great job for their second day in a row. We left the fish biting….hope they are there tomorrow!