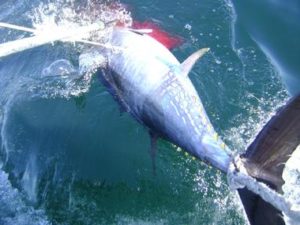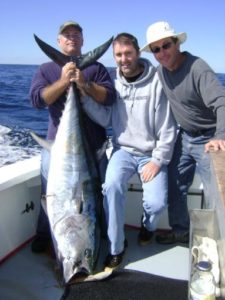 What a great day it was, upon our arrival we immediately marked fish.  Within 5 minutes we had line peeling of the reel and the drag was screaming.  Off the anchor we went and the chase was on!  After a 45 minute battle the fish had his way and lived to see another day.  We were all pretty upset, but it was time to get back to work.
As soon as we got back to the anchor, with the first line in the water, the rod lapped over and we were on again.  This time the fish was not so lucky and steaks were in order.  It was one of the longest battles we have ever had for a 200 pound+ tuna and I am not even going to say how long it was.  The guys were beat and we were tired just from watching.  Each fish is a little different and this one was very different.
As tired as they were we still went and caught a few cod for the table.
A great day it was and the guys will be back next year!