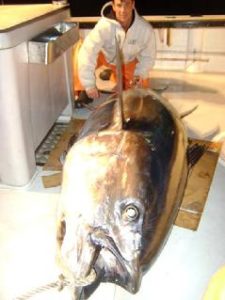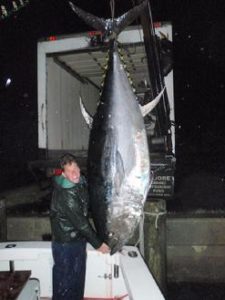 Bigger fish moved in and it was time to pull out the big gear.  For the two months we did okay on catching giants between 400 and 900 pounds. Double headers, hand feeding, back to back hookups, we had it all.   Unfortunately we lost way more than we caught with many pulled hooks and a few that chewed us off.  One day we lost 3 in a row on day and that's the way it goes, nothing was being done wrong, sometimes you just pull hooks.
The best trip was with the new boat which we closed on the afternnon of October 29th and were fishing the next day.  We arrived at the grounds just at the crack of dawn, after I had put out the third and final rod, on my way into the cabin heading to the helm chair the rod laps over and we were on.  We where fishing a total of 5 minutes.  Not too bad of a way to break in the new boat even though we pulled the hook.  We did hook up and catch another a few hours later.
We did however have a successful season and here are just a few pictures.