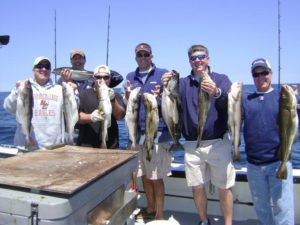 We had an okay pick of cod and pollack for a couple of drifts and then it completely died off with the tide, but once we got moving again we had bent rods and tired anglers for the rest of the day. Also for the first time in a while we caught a bunch on nice size bull haddock. The guys went home with plenty of fillets and were nice enough to leave us a big bag of fish…even though I don't eat seafood.
May 22th Cod
Upon our arrival at the same place from the day before, we had steady bent rods for a good time with a mix of cod and pollack. Most of the catch was medium to large pollack and just a few cod. Shortly thereafter we lost the drift and we lost the fish. That was it and it was all over and the rest of the day was a struggle with a fish here and there with many drifts producing nothing, but still lots of fillets for the table.
Hoping for better results tomorrow?!!!