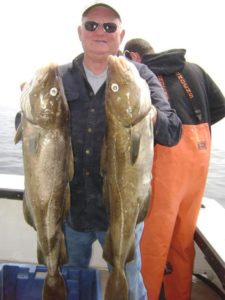 Today we had Capt Don (Sea Fox), Emil and friends come out for what I was hoping to be one of the better days of ground fishing and it was unfortunately the worst day of the season so far.
The day started out with a pretty good first couple of drifts with cod, both small and medium coming into the boat steady and then that was it. It shut off and never turned back on again for the entire day. We burned fuel with the hopes of finding some piles of fish, but there was none to be found. We did pick a few here and there and it was no better than that.
With that said it was great have Captain Don up again fishing with me and they still caught a few fish. The days total was 15 cod, 15 pollack and 5 haddock and just as many throw-backs.
Hopefully we will do a better job tomorrow…